This building is a 6-story next-generation wooden structure that combines CLT (Cross Laminated Timber) earthquake-resistant walls and a steel frame hybrid structure in addition to 2-hour fire-resistant laminated lumber. It has been adopted by the Ministry of Land, Infrastructure, Transport and Tourism of Japan as a "2018 Sustainable Building Leading Project (Wooden Leading Type)". It has high seismic performance due to the adoption of a seismic isolation structure, and also has a disaster prevention function against natural disasters such as earthquakes. We have created a calm work environment surrounded by the warmth of wood by actively using wood inside the building.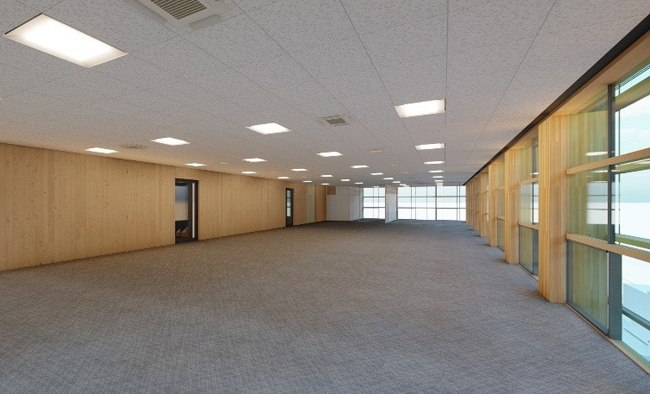 Taking into consideration the creation of a sustainable base which has been in demand in recent years, TAKUMA group selected a wooden building that is deeply connected to the renewable energy sector and that would contribute to the sustainable growth of the forestry industry by its development, and where we intend to expand our Solution Lab and human resources development. In addition to normal usage as an office, it also contributes to improving the resilience of the region by utilizing its function as a disaster prevention base in the event of a disaster.
With this facility, we aim to create new technologies and services to give solutions to problems for customers and society by setting up a place to promote lively discussions and free ideas by people inside and outside TAKUMA group as well as enhancing remote monitoring and operation support of plants and for developing skills for human resources.
TAKUMA group will continue to work toward the realization of a sustainable society by providing valuable products and services as a leading company, with a focus on the fields of renewable energy utilization and environmental conservation.