Compliance Measures
Initiatives to Ensure Compliance with the Antimonopoly Act
Towards ensuring permanent compliance with the Antimonopoly Act, TAKUMA enacted "Regulations Concerning Management of the Pledge of Antimonopoly Act Compliance," which provides for the submission of a written oath in regard to observing the Antimonopoly Act.
 "Rules on Controlling Contact with Competitors' Sales Departments, etc.," defines the procedure for an employee when interacting with the sales department, etc., of a competitor and specifies that an application should be made to and an approval should be obtained from the affiliated division or center manager in advance to ensure fair business contact.
Utilization of the Compliance Manual and CSR Report
Since 2006, we have been distributing a Compliance Manual that includes an explanation of the rules and standards of conduct as well as an FAQ to all employees in accordance with The TAKUMA Group Ethics Charter and the TAKUMA Group Code of Conduct. This manual is utilized in the course of daily operations and departmental training.(Distributed only in Japanese.)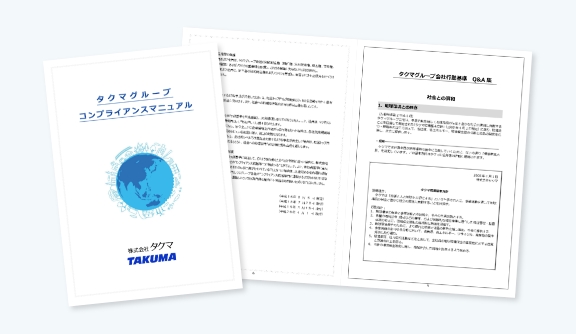 We also publish a CSR Report in order to communicate our businesses and CSR activities in an easy-to-understand manner to shareholders, investors, customers, and other stakeholders, and we use the CSR Report to ensure that employees have an overall grasp of our CSR activities. (The report is available at the following link.)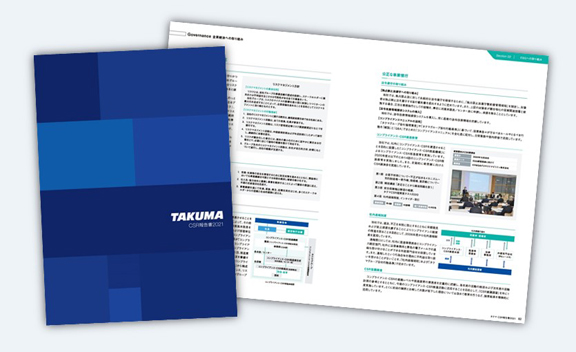 CSR Awareness Survey
We have been conducting a CSR Awareness Survey since FY2008 in order to quantitatively assess the level of compliance and CSR awareness along with the effectiveness of related promotional and educational efforts. The results of this survey are used when summarizing the activities of each fiscal year and in formulating the upcoming year's action plan, as well as in future compliance and CSR promotion activities. The survey was expanded to include group companies in FY2013.

We use the results of the survey to improve compliance and CSR promotion activities on an ongoing basis, for example by implementing education about the items whose scores fell from the previous survey.
Internal Reporting System
TAKUMA has been operating an internal reporting system since FY2006, with the aim of promoting compliance management by preventing illegal or unfair acts, and uncovering as early as possible and undertaking corrective measures.

Reporting contacts are set up at our Audit and Supervisory Committee and Compliance & CSR Promotion Division, and at an outside law office as well as a dedicated outside report contact for anonymous e-mail reporting. Our "Internal Reporting Code" and the TAKUMA Group Code of Conduct further declare that no informant shall be subjected to disadvantageous treatment simply because he or she filed a report.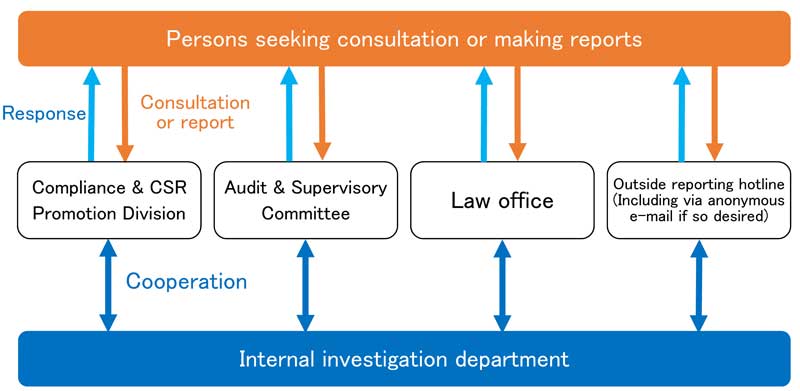 Furthermore, in order for this system to be correctly understood and utilized, we distribute a "Compliance Card" to all employees with information on the reporting contacts.(Distributed only in Japanese.)